With the technological advancements in our modern days, many companies rely on computing services, data, and applications to deliver products and services at a much larger scale than before. For a business to gain a competitive advantage in the market, it is imperative to use networking and online services to grow and succeed. However, the marketplace offers a variety of data storage, processing, and distribution solutions to consumers.
Nowadays, enterprises must decide between three solutions for their data storage: 
Choosing a solution that suits your needs is a matter of business size and budget. Each one has its benefits and downsides. However, having a better understanding of what each data storage solution has offers can help you make a better decision for your business.
Chances are you heard about the cloud before, and even if it is not business-related, the cloud has been used at an individual level by many people. That is the main reason why cloud gained so much popularity around the world. Unlike cloud computing, bare metal is not as popular, yet many companies are faced with the decision to give up on their cloud provider and switch to bare metal servers or vice-versa.
But, what is a bare metal server, after all? What is the difference between cloud servers and bare metal servers? After all, they are both servers accomplishing the same functions. There are some key features specific for both server types, and we are about to go more in-depth to find each solution's specifics and which one is best for your business.

Pros And Cons Of Bare Metal Servers
The difference between bare metal servers and cloud servers is that one is a virtual machine while the other is a physical machine. A bare metal server is a physical machine, and you identify it within a data center. Even if it sounds obvious, in the world of virtualization, this distinction is essential. The bare metal server, also known as a physical server or dedicated server, is located in a controlled and highly secured environment within a data center.
The bare metal server has dedicated hardware resources (CPU, RAM, Storage, Network port), and many companies go for this setup if they run applications that are sensitive to performance. Bare metal can be unbeatable by the cloud in certain situations, so it is crucial to understand the benefits of these servers and their downsides.
Pros Of Bare Metal Servers
Is performance your top priority? If that is the case, you can't go wrong with bare metal. They offer better performance for demanding applications, and your server can easily handle heavy workloads. Big data processing, applications affected by performance, and virtually any process that takes more resources will benefit from running on a bare metal server.
They also offer the advantage of dedicating all the hardware resources to a single tenant. Because there is a single user, performance degradation and variation are unlikely. Servers with single tenants also have the benefit of high security. A security-sensitive organization might be reluctant to choose a multi-tenant environment as the potential for breaking regulatory compliance is higher than in a single-tenant environment.
This setup is performance-oriented, and if that is what your business is looking for, this might be the right solution for you. Some of the main benefits of bare metal servers are greater processing power, input/output operations per second, and more consistent network I/O and disk performance. Besides that, you have increased quality service because it eliminates other noisy neighbor problems you would otherwise face in a multi-tenant environment.
Cons Of Bare Metal Servers
If you are working in an environment where you deal with highly dynamic workloads and performance is not of the highest importance, bare-metal is not the best solution. It also applies to applications that run up and down rapidly or if you have temporary workloads that must run for a short period of time before turning them off. In a situation like this, bare metal is not the most incredible solution, and you might want to switch to the cloud instead.
If you don't care about hardware performance, you might pay more for a single-tenant environment, which is not a cost-efficient way to implement a solution. If you need a scalable environment, bare metal might not be the right choice. Improving the systems requires you to buy new equipment, install it, update it, which takes time, and you have to power down the unit to make the changes, which leads to downtime.
Pros And Cons Of Cloud Servers
When you buy a cloud server, you get a virtual machine(VM). Characterized by abstract disk, memory, and CPU, the virtualized server is straightforward. In this multi-tenant environment, you have multiple virtual instances, which means that the host machine shares its resources. Everyone gets a portion of CPU, RAM, storage, and the most popular cloud configurations, receiving a small part of bigger shared network storage.
Unlike traditional computing models, the cloud brings an entire set of benefits for the organization's computing environment. From application scalability, improved economies of scale, and reduced costs to resource efficiencies, agility improvement, operational flexibility, and more. Cloud still remains one of the most widely-used solutions amongst enterprises, but what are the pros and cons of cloud servers?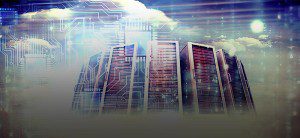 Pros Of Cloud Servers
If you are looking to accomplish a wide range of tasks, cloud servers are the way to go. Adding new resources to individual virtual machines and adding a whole new server can be done in a matter of minutes. Cloud servers are well known for their scalability and application flexibility. In an environment with variable workloads, the cloud can dynamically scale performance, which is also a cost-efficient solution.
You pay for the extra needed performance per minute, and costs remain low if you deal with workloads that are not performance taxing. Virtual machines are ideal for when you need a quick and cost-efficient server environment where you can access applications and data, use them, and turn them off according to your workflow. On top of everything, you have a highly customizable environment built on a high-availability infrastructure for a reliable system.
Physical security and equipment are less relevant for you as a virtual instance powered by the host machine. In the world of virtualization, increasing performance can be solved in minutes, and it doesn't have to be permanent.
Cons Of Cloud Servers
The sheer horsepower provided by bare metal can't be matched by VM's. You might have the advantage of dynamically scaling performance, but the resources are shared in a multi-tenant environment. If a noisy neighbor is running intensive data processing, there is reduced power available for you. If you run applications or tasks that require heavy loads, the cloud server might not be able to keep up with the performance demands because of its limits. This will result in poor performance and increased costs for the period of time you used more resources than usual.
The quality of the physical hardware is unknown, and accessing it might be impossible in many scenarios. You don't know if the host uses poor equipment, which makes you unaware of the machine's actual workload. Security-wise even if your VM runs on an operating system, which for many would count as an extra layer of security, the operating system is subject to external hacking. If a security breach occurs, you don't have direct access to the system, freezing your data in place.
Bare Metal Servers vs. Cloud Servers Conclusion
Many companies gain a competitive advantage with cloud and bare metal servers and can run heavy workloads, applications, and process data. Both solutions have their similarities, but when analyzing the differences between Cloud and bare metal servers, you would soon understand that each has its advantages and disadvantages. When it comes down to which solution is best for you, it depends on your business and the type of workload you need to run.
If you require sheer horse-power to run performance-sensitive applications and heavy workloads, then bare metal servers might be right for you! On the other hand, if you are looking for a highly customizable environment with low-costs running on high-availability infrastructure, a cloud server is your best bet. With cloud providers such as Volico, you can access o enterprise-class cloud solutions that ensure applications are always available and secure.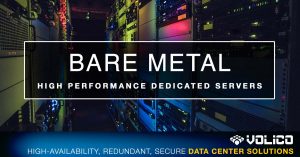 At Volico, we offer several Bare Metal Dedicated Server options to fit any business need. Make sure to check them out!
Whether you want a bare metal or a classic public cloud server, contact a Volico professional today to discuss your requirements and setting up the best hosting server for your business. Volico's Bare Metal Servers are designed to meet a broad range of workload needs. It's available in various configurations with varying numbers of cores, RAM, CPU, Storage, OS, and more.
Got questions? Want to talk specifics? That's what we're here for.
•  Call: 888 865 4261
•  Chat with a member of our team to discuss which solution best fits your needs.