MIAMI COLOCATION DATA CENTER
MIA1: Primary exchange point for high levels of traffic between the U.S. and Latin American markets.
Specifically designed to house our dedicated servers, the core focus of Volico's Miami (MIA1) facility is on redundancy, allowing our network to rapidly self-heal failures without interruptions to connectivity. MIA1 is a data center built as a specialty facility to accommodate our Dedicated Server clients who demand a first-class facility that offers reliability, security, and high-quality network performance.

Located in the heart of downtown Miami, Volico's MIA1 shares the dual power grid that services local hospitals, federal and state courthouses. Ranked as one of the five most connected cities in the world, Miami has a telecommunications infrastructure that further enhances services at our data center by providing multiple fiber loops, carrier facilities, and international cable landings. Volico gives your company access to the preeminent communications gateway to Latin America. Our MIA1 data center is the primary location for all hosted server services provided to Volico's clients as well as cost-effective colocation.
Security personnel is on-site 24/7/365.
Guards require valid photo ID from any individuals attempting to enter the building.
A key card is required to use the building's elevators and access the data center floor.
An additional key card and biometric hand scan is required to access colocation space.
Finding the right IT solution can be a daunting task for any business. In-house solutions are often inadequate and quickly become expensive. Space limitations, the financial impossibility of building a data center from the ground up, and the impracticality of retrofitting all lead to one conclusion: colocation provides businesses with a variety of benefits no other alternative can match.
We provide the space, power, cooling, and physical security for your equipment and get you connected to a network with minimum cost and complexity. We've already made the investment in the secure, redundant, state-of-the-art facility; you just step in and leverage them for your business' benefit.
100 N. Biscayne Blvd.
Miami, FL 33131
100 N. Biscayne Blvd. Miami, FL 33131
Facility Details Overview
Volico is proud to offer a wide range of services and products that accommodate your business needs. We serve businesses of all sizes (from small to large corporations) and across several continents (including the U.S., Latin America, and Europe). Some of our most popular services include:
Dedicated Servers: Customized to meet your business needs and goals.
Colocation Cabinets: Full racks available with your choice of amperage and bandwidth. Featuring disaster recovery, network redundancy, regulatory compliance, technical support, and a 99.999% guaranteed level of service.
Location: 100 N. Biscayne Blvd., Miami, FL 33132 – 6th Floor + Roof
NPA-XXX: 305-374
Building: Built in 1963. Renovated in 2006 to telecom standards.
AC/DC Power: 120V, 208V and 480V AC; A and B feeds for redundancy. -48V DC via an underground feed served by two substations
Global Carriers: AT&T, Comcast Full Services and Video, Fiberlight, FPL, Global Crossing, INTERNAP, Level 3, Qwest DS3 and Higher, Savvis, TW Telecom, Verizon, XO, and Direct Connect Internet access
Floor Height: 14′ deck to deck with no obstructions. Raised floor environment.
Redundancy: AC UPS power
UPS: (1) 225 kVA Liebert
Generator: (2) 1.5 megawatt Cummins Diesel generators
Air Conditioners: (5) 12-ton air conditioners service space. Climate-controlled environment: 72°F with 40-60% humidity
Security: CCTV digital cameras and recorders plus alarm system. Entry granted only via biometric hand readers/key cards. 24/7/365 security staff. TotalPac fire suppression system. Mission "Hospital Priority" in Florida Power and Light (utility power) Critical Power hierarchy.
Rack Space: Accessible only by key – racks built so that each unit is completely
inaccessible by other clients that may share rack space in the nearby area.
Antenna Towers: Existing masts available for client use
Diverse Conduit Entry Points: Two (2) manhole entries: (1) east and (1) west
Freight Elevator: 84″ x 42″ door, 88″ x 80″ x 54.5″ cab
Physical and Environmental Security
Our MIA1 data center is manned 24 hours a day, 365 days a year by security personnel who control access to the building. Access to the data center itself is controlled through a biometric hand scan and all cabinets are securely locked on both sides.
Additional measures to ensure secure, high-performance operation:
CCTV digital cameras record all activity 24/7/365. The network of CCTV cameras is fully integrated into the alarm system and the physical structure of the building surpasses all local building codes and standards with added security measures. All footage is archived for future retrieval.
TotalPac Fire Suppression System. This dual-alarmed, dual interlock, multi-zoned, pre-zoned, pre-action, dry pipe fire suppression delivery system is state-of-the-art: The electrical and mechanical systems were built with the latest technologies. Clients have N+1 redundancy to guarantee continuous operation with branch breaker monitoring plus dual power grid services.
24/7/365 management and monitoring of environmental systems. Our 14′ high ceilings in a raised floor environment ensure that your equipment is maintained with N+1 cooling. This provides optimum airflow, with a constant 72ºF temperature and 40-60% humidity. Power systems are designed for maximum effectiveness and are capable of delivering 120V, 208V, 480V AC, and -48V DC to match each client's unique needs.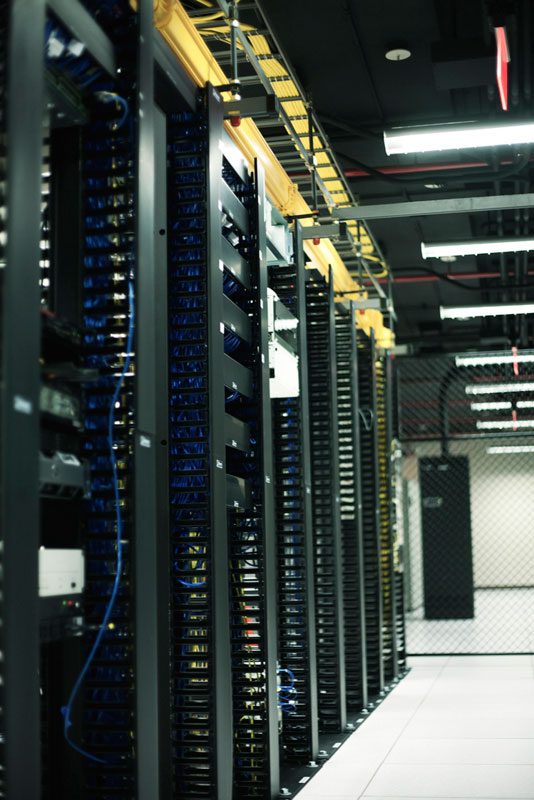 We offer both in-person tours and virtual tours at this time. Please fill out the form below, and one of our sales representatives will contact you to schedule a tour.