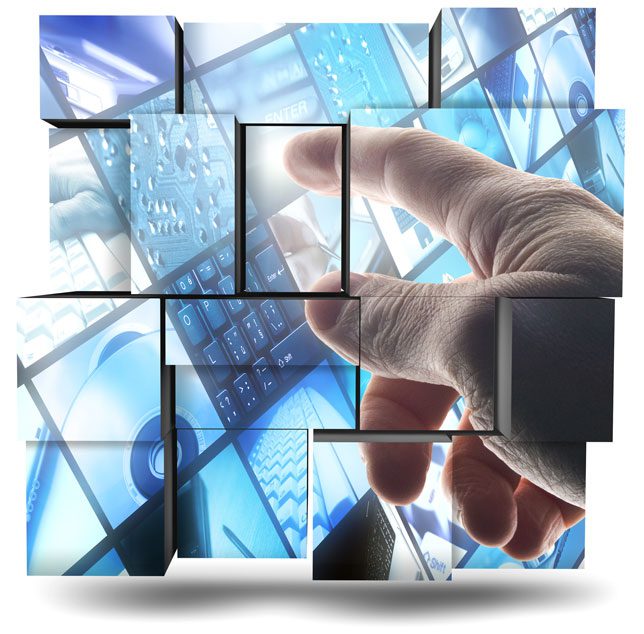 Volico's dedicated resources are customized to address all technology range such as servers, storage, network, hardware, devices, and applications. Enterprise server hosting gives you the performance and flexibility you business needs to excel without the capital expense of purchasing your own server(s).
Whether you opt for a self-managed server or maintained by our engineering staff, the focus is to take the stress and hassle of hardware management away from you. From a complete technology stack ranging from managed infrastructure services that include services targeted to operating systems, network, servers and hardware to content delivery solutions, application hosting, security and business continuity.
Volico's Enterprise Hosting solutions offer industry-leading infrastructure with World-Class services. Our Service Level Agreements range from hands-off to fully managed hosting solutions which can help you save money, time and manpower by hosting and managing your infrastructure, from the configuration and deployment to management, troubleshooting and backup support,
The fully integrated applications and networking infrastructures handle the simplest to the most demanding and challenging hosting needs, and also streamline the integration of components from various vendors.
Enterprise Hosting Advantages
✓  Scalable hosting solutions
✓  Fully redundant BGP4 multi-home premium network
✓  Wholly owned network and data center operations.
✓  100% network uptime SLA
✓  24/7/365 fully managed support.
✓  Ideal for building your own private cloud hosting solution.
✓  24x7x365 emergency access to senior engineers
✓  Optional operating system management services
✓  True Fortigate hardware firewall protection
Which Enterprise Hosting Solution Fits Best For You?
Enterprise Colocation
Volico's enterprise colocation service provides a secure, protected environment for storing and housing your mission critical data with highest levels of security, protection, power and network availability to your IT resources. Volico can provide your business great flexibility to grow within your own secured space, while avoiding the hassles of operating your own data center environment.
Enterprise Private Cloud
Bring the power of the cloud hosting to your enterprise with Volico's Enterprise Cloud Services with the highest levels of reliability, performance, scalability and availability. Our Enterprise Cloud Solutions can help you increase IT performance, heighten business dexterity, and optimize cost structures.
Enterprise Backup
Volico offers truthfully affordable and valued data backup from enterprise-level to entry-level workgroups. We'll help you automate processes, improve profitability and ensure business continuity. Volico assist enterprises keep control and get handle on of their sensitive, business-critical information even though they don't really possess or run a cloud system that maintain their data.
Enterprise Industry Solutions
Volico understands that organizations from different industries have different needs. Whether you are in the Healthcare, Retail, Media & Entertainment, Government, or Financial Services industries, We will adjust solutions to fit each industry and understand your organization's business hosting needs. Our enterprise hosting offers solutions for large industries that need tremendously fast hosting for their private cloud, enterprise colocation, websites, ftp server, or multiple domains.
Enterprise sectors that have selected Volico Enterprise Hosting service to house their infrastructure include:
✓  Government Services
✓  Financial Services
✓  Technology
✓  Healthcare
✓  Media & Entertainment
✓  Retail Business
✓  Business Services
✓  Manufacturing
Volico is a reliable hosting provider that brings more than a decade of experience when it comes to delivering Enterprise Hosting Solutions to many of businesses and customers of all sizes across various segments.