Healthcare facilities haven't always been fans of cloud computing. 
Not too long ago, the prevailing opinion was that the cloud wasn't secure enough for healthcare data, and it was safer to store it on-site – On-Premises Data Centers.
Fast forward, the healthcare industry is choking with data. 
Consider, for instance, the 2018 Statista projection that as many as 2,314 exabytes of new data could be generated globally in 2020. 
Cloud storage provider Backblaze hypothesizes that if 1 gigabyte is the size of Earth, then 1 exabyte is as big as the sun.
The healthcare industry was forecasted to generate 2,314 exabytes long before the Covid 19 pandemic was on anyone's radar. 
Closet home, a single MRI produces 100 megabytes of data. And then there's the passage of regulations like the Affordable Care Act that increased the number of patient data hospitals store.
The question then becomes — with all the stats pointing towards a surging strain on healthcare facilities' capacity to store data, does it make sense for hospitals to continue maintaining on-premises data centers? Or are the facilities better off partnering with colocation providers? 
Let's explore this further.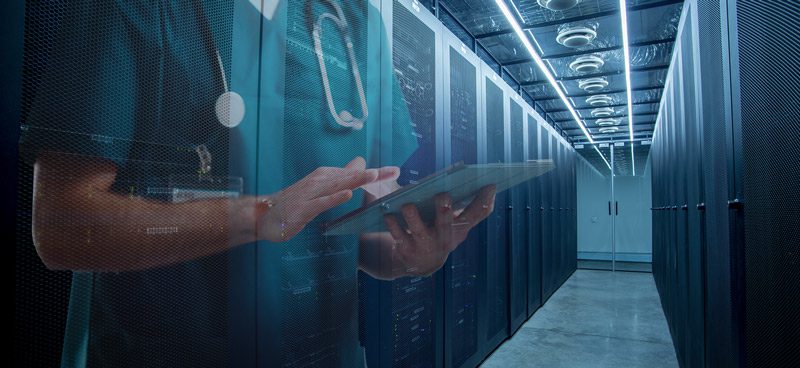 On-Premises Data Centers vs. Colocation Providers for Healthcare Providers 
On-site data centers, whether located at the health facility or connected to local networks, provide reasonable performance speeds.
High speeds can come in handy for situations like picture archiving and communication systems, which are crucial for storing and sharing medical imaging.
Further, on-premises data centers can be a requirement for facilities still running applications and systems designed to be used locally.
On the flip side, cloud solutions hosted in a colocation data center offer many benefits too essential to be ignored.
Benefits of Migrating to Colocation 
Migrating from an on-site data center to a colocation facility promises a positive in multiple areas, including; 
Compliance
A study by Spiceworks found that 30% of healthcare IT professionals have concerns regarding compliance when looking for a colocation provider.
They're apprehensive that migrating data storage into a colocation facility may not guarantee the compliance level and support required by agencies like The Health Information Trust Alliance (HITRUST) and HIPPA.
Conversely, colocation providers can help ease compliance burdens. A good collation facility will ensure it meets industry-specific regulatory and compliance standards. That way, the provider can guarantee a health facility's protection and facilitate audit activities if need be.
Regarding compliance, Volico data centers are HIPAA Security Rule, and HITECH certified. This certification means that our data centers meet the HIPAA colocation requirements to ensure your data is HIPAA-compliant.
Volico Data Centers is one of few HITRUST audited and certified colocation providers. With Volico as your partner in complaint cloud storage solutions, you can rest assured that you have the backing, certification, and clarity of HITRUST.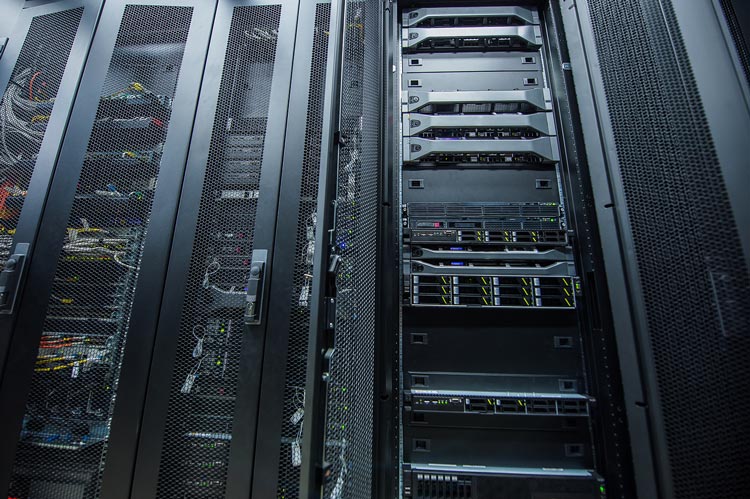 Saved Labor Resources
Labor is one of the highest ongoing costs of operating an on-site data center. Shifting to colocation can help relieve healthcare facilities from the costs of hiring engineers, electricians, compliance experts, technicians, and other employees.
Volico ensures that your facility doesn't have to hire personnel to service your IT environment by providing managed security services.
While you'll need to buy servers and other hardware, our data centers will provide the space, state-of-the-art power, staffing, bandwidth connections, and compliance without leaving a hole in your IT budget.
We allow your healthcare facility to leverage the capacity of an enterprise-grade data center without incurring the enterprise-grade price tag.
Fixed Costs
With colocation services, your healthcare facility is not leasing a dedicated server.
You're deploying your IT infrastructure, so you must purchase hardware. Compared to leasing, the upfront expenses can be expensive.
However, there's no monthly charge afterward, as with dedicated servers. Better yet, you'll have complete control and choose hardware components.
Volico offers hardware-as-a-service together alongside colocation. Your facility gets the equipment it needs without upfront expenses.
We price our colocation services based on;
The amount of space your server(s) occupies in our data center

The degree of network connectivity you need

How we deliver power to your cluster

The amount of on-site support, if you need any
The point is that moving to colocation enables better control over fixed costs and long-term IT budgets, making it easier for healthcare facilities to expand their operations without breaking the bank.
Physical Security
Security is a top priority for healthcare IT.
The Spiceworks report reveals that 31% of IT healthcare professionals are more likely to work with colocation providers that guarantee security.
While insecurity is a concern, delaying migration to colocation can expose ePHI to even greater risk. In fact, 34% of respondents in the Spiceworks survey said they experienced compliance and security issues with their patient's data when left onsite.
Colocation offers healthcare facilities security posture through expert advice and advanced controls than what they have in-house. Besides, the facilities have complete access to control critical IT hardware whenever they want.
Volico colocation services offer physical security through;
24/7×365 security technician onsite for consistent monitoring and support

Locked cages, private suites, and separate cages if you need them

Cabinets fitted with access control systems

Multi-factor authentication, including biometric scanners and badge IDs

Perimeter barriers

Round-the-clock video surveillance
Old Equipment Upgrade
A hybrid approach can enable healthcare IT leaders to decide the best location for each piece of equipment.
Some infrastructure is better hosted in a colocation data center, while others are best suited in an on-premise data center. A hybrid model also allows hospitals to upgrade cold infrastructure to increase their current capacity.
Further, this strategy allows healthcare facilities to determine the ideal time to migrate particular applications to the cloud.
Colocation is integral in implementing a hybrid data center/ cloud strategy. It allows healthcare facilities to source additional capacity on an on-demand basis, more so when they cannot keep up with storage needs.
Side Note: The success of a hybrid model depends on excellent connectivity with easy access to multiple cloud providers.
A good colocation service delivers seamless connectivity options, including the capacity to host any carrier in a data center without high cross-connect charges and with expert opinion on network architecture.
Besides, most traditional carriers and global ISPs housed in a colocation data center provide direct access to several clouds. That way, healthcare providers can leverage a perfect combination of cloud service services that can handle their specific workload. 
Volico Hybrid Cloud — Bringing  You the Best of Both Worlds 
With the benefits of colocation and on-premises data centers, the future will probably be hybrid.
Healthcare organizations may still require on-site data centers, if for nothing else, to house the necessary infrastructure to connect to the cloud.
Healthcare providers already adopting a hybrid model are experiencing significant cost savings.
Hybrid solutions also provide flexibility. For instance, healthcare organizations can move data from one platform to a low-cost cloud storage provider for archiving and long-term backup and back if need be. 
Volico Hybrid Cloud is an innovative solution that allows healthcare providers to leverage cloud hosting, dedicated servers, and colocation. That way, they can handle the pressure to offer highly available, secure, and compliant service.
Ready to Learn More About Volico's Data Center Colocation Services for the healthcare industry?
Using a colocation data center has many advantages, but there are key benefits for securing your IT infrastructure within a data center compared to a traditional on-premise facility. Our data center facilities deliver the network redundancy, security, backup power sources, and 24/7 support staff your business needs. With Volico's team on your side, your healthcare organization will experience greater uptime and cost savings than if you had an in-house server room. Speak to a Healthcare IT Specialist about your company's specific data center requirements.
•  Call: 888 865 4261
•  Chat with a team member to discuss which solution best fits your needs.