Compliance audit!
For many organizations and business leaders, compliance audit is synonymous with fear, confusion, headaches, and a ton of stress. Understandably so.
You see, compliance, at its core, is a super-rigorous process, which, if not properly done, can lead to lawsuits and hefty fines in the future.
On top of that, managing records, workflows, and a series of processes to ensure your business complies with your industry's regulations requires expertise and can also eat into your employee's time.
What is a Data Center Compliance Audit?
A compliance audit is an in-depth review to determine if an organization conforms to specific regulatory guidelines. Audit reports assess the diligence and strength of compliance preparations, user access controls, security policies, and risk management procedures.
Compliance audits are typically conducted by independent third parties and follow a specific format based on the evaluated compliance regulation.
While compliance audits are not attractive, they can be beneficial to your organization in several ways, including:
They can help you discover existing gaps that can potentially expose your business to more risk

They can help you identify areas where you can do better

They can help your company avoid severe penalties due to non-compliance
So, What Compliance Audits Are We Exactly Talking About Here?
Compliance audits vary depending on whether an organization is a private or public entity, the kind of data it deals with, and if it sends or stores sensitive financial data.
Benchmark standards, regulations, and compliance frameworks that determine how an organization will be audited include HIPAA, GDPR, Sarbanes-Oxley, PCI DSS, NIST 800-53, ISO 27001, SOC1 Type 1, and SOC2 Type 2.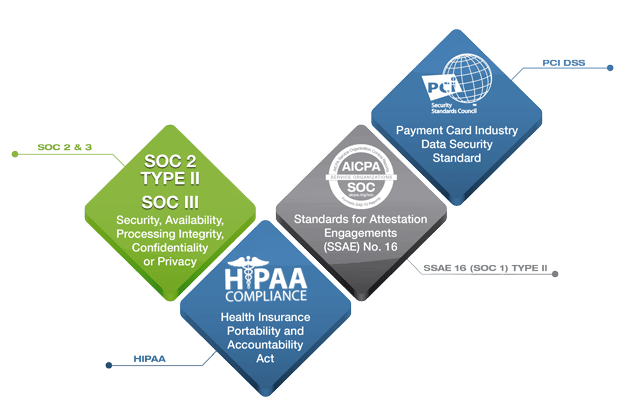 Working with a Data Center Can Make Compliance Easier 
Indeed, compliance audits are hectic. However, partnering with the right data center can make compliance and compliance audit less of a chore for your organization. 
Why Data Center Compliance?
Before we tell how working with a data center can help your compliance efforts, let's look at some stats:
49% of businesses use colocation facilities to host their IT infrastructure 

51% of these organizations use colocation to ramp security 
According to the International Data Group (IDG) report, the colocation market is projected to grow by 13% by 2028. It is, therefore, evident that more and more businesses are edging towards using colocation facilities as part of their IT setup. 
Because colocation data centers are assessed based on the benchmark frameworks we've mentioned above, your business can meet industry-specific compliance requirements by partnering with a compliant data center.
Better yet, your organization can reap other benefits that go beyond just meeting your industry compliance requirements. 
Below is a rundown of how colocation data center compliance can help your enterprise:
Minimal Operational Risk
A dedicated data center supports its customer's core security and compliance requirements.
A colocation data center with a robust compliance framework can help establish a consistent way of doing things in your business.
Consistency in your documentation, best practices, controls, and procedures helps reduce technical glitches, human errors, and situations that expose your organization to potential risks. 
Further, a well-organized data center compliance program can help you identify areas that need improvement to optimize performance.
The ripple effect of working with a data center dedicated to supporting your compliance requirement is reduced operational risk. And, if an unplanned outage occurs, the facility works to restore system operations quickly.
Improved Efficiency and Accountability 
A thoughtfully crafted data center compliance program can improve your organization's service delivery, create harmony and reduce blame, resulting in satisfied employees and customers.
Volico boasts a team of compliance experts dedicated to ensuring our customer's security. By having experts manage our program, we can focus on helping our customers meet their compliance and regulatory needs.
Further, our experts understand standard processes, requirements, and controls for multiple regulations, frameworks, and standards. That way, we can help your organization avoid unnecessary duplication and overload of your internal resources.  
Furthermore, the experts can leverage their compliance knowledge to generate faster results, consistent data, and KPIs aligned to your goals. This level of accountability allows you to deal with problems better and correct them before they exacerbate risks.
Additionally, our compliance program experts are committed to offering value-addition to your enterprise through innovative products designed to enable your compliance program. 
For example, a health provider looking for HIPAA requirements can work with our team to inherit the necessary controls and develop new controls quickly, consistently, and accurately.

Ability to Anticipate Customer Needs
Technology and end-user behaviors rapidly change, leading to new business opportunities and threats. The change also affects industry regulation and service delivery.
Partnering with a well-organized data center compliance program can allow you to adhere to the changing compliance requirements. That way, your business can stay up-to-date with industry-specific best practices while allowing you to improve service delivery.
By helping you anticipate customer needs, data center compliance programs, by extension, enable you to increase customer satisfaction, generate more leads and retain more customers. This results in a positive ROI and a better bottom line in the long term.
Guided Investment and Innovation
A well-sourced colocation data center compliance program includes product development and innovation to help customers adjust to the changing compliance requirements.
Compliance regulations, frameworks, and standards can benefit from innovative processes, power options, controls, and networks.
A perfect example is the Data Center Optimization Initiative (DCOI), created to enhance data center optimization in the Federal government.
The DCOI mandates agencies to identify specific and achievable goals, including reducing government data center spending. The idea behind DCOI is to help the government fix the inefficiencies in departments and agencies using IT infrastructure hosted in government-owned data centers.  
Partnering with a forward-thinking data center will enable you to gain a competitive edge and understand how and when to invest in new products and services.
Your organization can leverage these innovations to prepare for imminent regulatory changes or support customer initiatives like social and governance or environmental priorities.
The Bottom Line 
If your organization is still struggling with compliance, you'd be happy to know how much working with the Volico colocation data center can help. 
The more your operations interlock with our compliance-oriented data center, the lower the risk of security challenges. 
The mere fact that our data centers have to undergo compliance audits regularly should assure that we're committed to providing top-notch service whether you're hosting business-critical data, hardware, or applications with use. 
View our hosting certifications and compliance.
Apart from helping you meet your industry's compliance requirements, we also provide long-term customer satisfaction through enhanced accountability, risk reduction, efficiency, and innovation. Interested in learning more about Volico's commitment to data center compliance? Contact us today for more information.
•  Call: 305-735-8098
•  Chat with a team member to discuss which solution best fits your needs.