Businesses are shifting to fiber rapidly as fiber offers higher bandwidth and faster speeds over longer distances. According to IBISWorld, the fiber-optic cable manufacturing industry has already reached $4 billion over the last five years.
As you've been reading about fiber network and how it works, you might have come across the terms "lit fiber" and "dark fiber." What precisely do these terms mean, and how are they relevant to fiber internet services? With more and more people depending on fiber optic cables, it's a good idea to familiarize yourself with lit fiber and dark fiber and to understand better what makes them different.
This article highlights the difference between lit fiber and dark fiber.
In this post, you'll learn the following:
What lit fiber is

What dark fiber is

How each options works

The advantages of dark fiber and lit fiber

How Volico Data Centers fits into the equations
So, if you've ever wanted to know about dark and lit fiber, you'll enjoy reading this article. Let's get cracking.
Understanding Fiber Optic
Before we look at the differences between lit and dark fiber, let's first understand what optic fiber is and how it works.
For starters, fiber optic cables pack numerous glass fiber strands. These strands have a diameter the size of human hair and deliver data via light at high speed.
Fiber optic cables are ideal for high-speed internet users. Just like electronics, a fiber cable's speed and capacity are almost unlimited, making fiber the best cable for high-speed internet delivery.
Better yet, fiber technology allows several data streams to travel in one fiber by leveraging a procedure known as dense wavelength division multiplexing (DWDM).
DWDM delivers multiple streams of data at varying wavelengths.
Do you know what this means?
It implies that fiber allows organizations to use a fragment of a cable's capacity to deliver data in the same cable as other companies.
In a DWDM situation, an Internet Service Provider (ISP) "lights" the cable using its own electronics and sells the internet to other organizations in the ISP's network.
In most cases, several companies will use the fiber optic cable on ISP to provision the network and manage traffic. DWDM is ideal for businesses with regular, elaborate networks but lack in-house network engineering capacity.
DWDM may not suffice for organizations that need to optimize latency or manage their network. Such companies would be best served by dark fiber.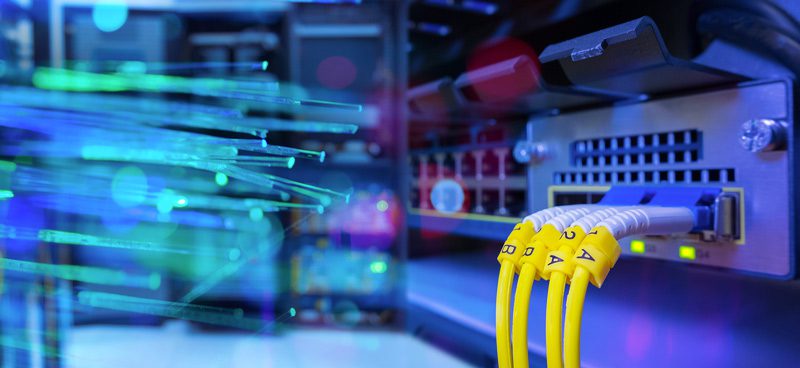 So, What is Lit Fiber?
Lit fiber means the fiber optic cable is active, aka "lit."
An organization's ISP provider establishes, manages, and maintains lit fiber connections. Light fiber includes Point-to-MultiPoint, Managed Wave, and Dedicated Internet Access.
Lit fiber delivers the flexibility of scalable speeds that can grow with your organization, whether you're one or several branches.
Further, lit fiber enables round-the-clock access and Network Operations Center (NOC) engineers to assist your team with maintenance and troubleshooting. Lit fiber also allows organizations to enjoy the reliability of expert partners to manage their network's essential elements.
For most organizations, lit fiber offers the most operationally appropriate and workable form of optic connection.
Besides, megabit pricing on lit products is considerably cheaper, given the cut-throat competition in today's ISP market.
Still, if your bandwidth requirement is less well-defined or you'd like to deploy a private, super customized, secure network, it would be best to go with dark fiber.
What is Dark Fiber?
Dark fiber means that the fiber cable is "unlit." Unlike lit fiber, dark fiber isn't managed by the network provider. Instead, organizations lease dark fiber from ISPs and manage them privately. 
Dark fiber is a secure and private network customized to meet the specific needs of a particular customer.
Because dark fiber is customized per the customer's needs, it offers nearly infinite bandwidth to multiple locations. That way, owners have total control enabling them to design, light and manage their network.
Dark fiber allows organizations to accomplish certain things that wouldn't be possible with any other connectivity option.  
For instance, dark fiber is the best option if you need to accomplish the following:
Set up a trading network with low latency

Address super-specific security concerns in your organization

Connect a data center with real-time transmission links

It is essential to note that you can use dark fiber together with a lit fiber connection
Advantages of Lit Fiber
Lit fiber offers many advantages, including:
Increased convenience:

Because service providers manage lit fiber, lit fiber networks are ready to plug and play without ramp-up periods. Besides, the provider is responsible for managing the connectivity on your behalf.

Growing Capacity

: Does your organization require a lot of bandwidth? No worries. Lit fiber capability continues to grow, hitting over 100Gbps.

Affordability:

Your ISP handles lit fiber connectivity for a monthly fee. Plus, you don't have to worry about installation, managing, or upgrading your connectivity, making lit fiber relatively affordable. 
Disadvantages of Lit Fiber 
Some downsides of lit fiber include: 
Less control:

The ISP provider can limit the bandwidth, hampering your business growth.

Additional bandwidth costs:

Your ISP can increase your monthly fee if you decide to increase your network bandwidth. 
Advantages of Dark Fiber 
Dark fiber offers the following advantages: 
Scalability:

Dark fiber's ultra-scalable bandwidth makes it possible to scale up as your business grows and evolves. You don't have to worry about running out of capacity with dark fiber.

Reliability:

Because you're the sole manager of your network, you're in total control. Plus, you don't have to rely on another provider to maintain or upgrade your network.

Affordability:

Dark fiber is relatively more affordable than building your own network. Why? You don't have to start from scratch when installing new cables. 
Disadvantages of Dark Fiber
Below are some downsides of dark fiber:
Complex Management:

Even though total control over your network is a good thing, it isn't without its fair share of challenges. Because you're in charge of your network, you must have the resources and IT expertise to run dark fiber efficiently.

Ongoing Costs:

You should consider some costs of running a dark fiber network. You'll bear the cost of lighting the network and ongoing maintenance costs.

Limited Availability: Dark fiber, in most cases, isn't available in rural areas. In fact, you're more likely to find dark fiber in government entities, cities, and large corporations in urban areas.

Lit fiber vs. Dark Fiber
Lit fiber may lack the capacity to scale easily and quickly. However, the initial setup costs are relatively affordable compared to dark fiber. Plus, the timescales of setting up dark fiber are shorter.
With dark fiber, your organization will lease the fiber, buy and maintain the equipment and hire the IT staff required to keep things running.
For lit fiber, the carrier is responsible for downtimes, but on the flip side, this option can be more restrictive since the fiber route is already established. In essence, this means that the connectivity depends on where your organization is within the cable's route.
The Bottom Line
Lit fiber and dark fiber are significantly different options, so it is crucial to consider which one serves your business the best. We're talking about the cost, dedicated bandwidth, routing, and the capacity you need to scale in the future.
No matter which connectivity you choose, one thing is for sure – your organizations will benefit from higher speed, expanded bandwidth, and more reliability.
Volico's Connectivity Solutions
Volico Data Centers focuses on providing fiber connectivity solutions that offer greater speed and efficiency while meeting your specific needs. 
We understand that lit fiber may not be for everyone, as is dark fiber. 
Still, to satisfy our customer's unique needs, Volico Data Centers provide carrier-neutral solutions to allow our clientele unobstructed access to dark and lit fiber services. That way, you can provide excellent services to our customers, however diverse their requirements may be.
If you'd like to learn more about our services or advice on which fiber option works best for your business, call (305) 735-8098 or Chat to speak to one of our fiber connectivity experts today.