In a digitally connected, networks play a vital role in connecting data centers while providing greater agility, operational simplicity, and scalability to organizations enabling them to keep up with the expanding capacity and performance requirements.
The demand for reliable data exchange has risen recently as cloud services and mobile device connectivity continue to experience exponential growth.
As a result, this strains networks, especially on routes to, from, and between data centers. Most large businesses' challenge is supporting these advances with shrinking IT budgets and dwindling resources.
This challenge makes the solutions created to interconnect data centers essential. In the data center interconnect (DCI) realm, content, network, and colocation providers work around the clock to address challenges caused by surging content demands. Data center interconnect (DCI) solutions provide the necessary technology to connect two or more data centers with speed and performance as priorities.
Discover why optimizing interconnectivity is essential for future-proofing your network and ensuring your business stays ahead of the curve. Read about the latest strategies and best practices for optimizing your data center's interconnectivity, and take your network to the next level. This comprehensive blog post will show you how to optimize your network's infrastructure for maximum efficiency, performance, and speed.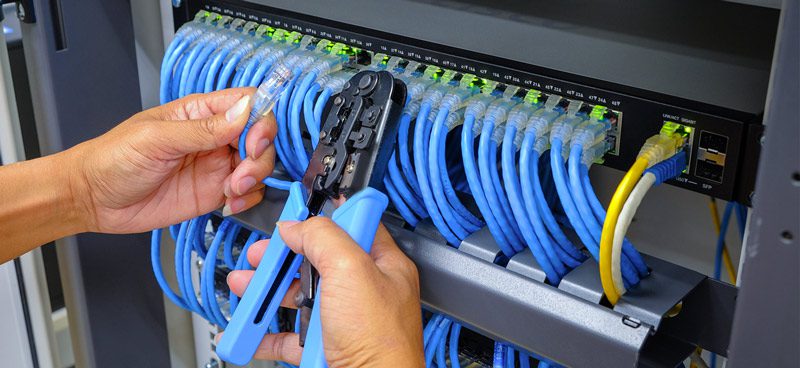 Best Practices For Optimizing Your Data Center Interconnect
Leverage Hybrid IT Solutions to Improve Network Response
Remote workforces are the new norm. Nowadays, businesses looking for high-performing, low-latency network solutions are turning to remote employees and distributing to improve efficiency.
By leveraging hybrid IT solutions, organizations can achieve low-latency connections between core data centers, the cloud, and edge conditions.
It would be best to partner with providers that offer consistent configurations and connectivity solutions across a geographically distributed portfolio. That way, you can deliver high-performance results.
Better yet, you can work with a team of experts to help you to build an edge strategy that supports distributed users with predictable performance.
Deploy Edge Solutions to Improve Security
Speaking of an edge strategy, you can integrate edge solutions into your overall IT strategy. That way, you can offer lower latency connections and data security as the information travels between the core data center and edge deployments.
Work with a partner that can offer a secure, private, and fully managed network to connect to cloud service providers, carrier hotels, back-office platforms, and colocation facilities.
Your partner should provide proactive distributed denial-of-service (DDoS) protection backed by managed IP bandwidth services to additional protection layers on your data.
Also, use reliable and consistent connectivity solutions to ensure high performance and security solutions across all your deployments.
Leverage the Cloud to Improve Reliability
The adoption of cloud deployments into IT strategies is becoming increasingly popular, making cloud connections crucial to providing a solid performance to end-users.
Volico Data Centers cloud solutions provide secure, direct, low-latency connections to leading cloud service providers. We monitor our network's reliability and performance to ensure 99.9999% uptime and bandwidth guarantee and to minimize single points for failure.
Use I/O Connectors for Flexibility
I/O connectors offer the flexibility of choosing the cable type you need for each application.
Let's say your data center has racks of servers connecting to a top-of-rack switch. Most such connections are a few meters long, making it relatively affordable to use copper cable.
Still, some connections may require a longer cable. By using a pluggable form factor connector such as QSFP28, QSFP+, SFP28, or SFP, your data center can enjoy the flexibility of choosing the right cable as per your requirement.
Use "Intelligent" Equipment to Reduce Cost
While server interconnects can be 1Gbps, some application servers can support as much as 40Gbps.
Sure, Gbps connections have been around for a while, but the latest industry trend is to use 25Gbps. The 40Gbps interconnection delivers four data lanes at 10Gbps. In essence, this means that you can create "intelligent" equipment to break the data into four lanes before reassembling the stream into 40Gbps.
On the contrary, 25Gbps uses a single lane, which means it's cheaper to maintain and implement in your server and switch.
Use 48 Interconnects for Thermal Management
You can dissipate power by replacing copper assembly with an optical module. Why an optical module? …because an optical module converts the signal from electrical to optical.
While this may be less crucial on a server with one or two interconnects, it can significantly affect a switch with up to 48 interconnects.
Thermal management is crucial because your equipment has 48 individual heaters adding to the heat already generated from internal components.
Optical interconnects optimize a set of new dynamics that require optical modules dissipating less power and I/O connectors, enabling you to manage the thermal load.
Use Next-generation Packet-optical Platform to Overcome Distance Limitations
Data center interconnection requires a connection with minimum latency. The more the distance between data centers, the higher the latency.
To solve this challenge, data centers can use next-generation packet optical platforms. These allow data centers to reduce hardware-generated latency and intelligently compensate for fiber and transmission shortcomings.
Use Coherent Optics to Solve Capacity Limitations
In most cases, data centers have to deal with large sizes of data sets entering and leaving the facility. We're talking at hundreds of Gigabytes to Terabytes.
Coherent optics can support transmission rates of 40 Gigabytes to 100 Gigabytes or more over almost any distance. The ripple effect is a dramatically improved data center interconnect performance.   
Use Purpose-built Interconnect Platform to Overcome Operational Limitations
Manual operations in a data center are not only labor-intensive but also slow, complex, and remarkably error-prone. 
Data centers can leverage simple planning, ordering, and installation by building purpose-built interconnections platforms. These DCI platforms offer faster interconnection. On top of that, full programmability enables operators to build custom applications.
Leverage Optical Efficiency to Deal with Cost-Related Challenges
To maintain financial stability, the data center and transport budget cannot grow linearly alongside bandwidth growth.
Advances in high-speed networking technology allow reduced footprint and power consumption. This enables data centers to interconnect at the lowest possible cost per bit.
Volico Data Centers Hybrid Cloud Offers Low-latency Connections 
Reliable, top-level connections are essential for business continuity and effective operations.
Further, connecting to cloud services and expanding the ecosystems of providers, customers, and business partners is critical for businesses to thrive. Connection isn't enough, though.
Low latency and security are also essential for forward-thinking, modern organizations that utilize real-time applications across a distributed network.
Volico Data Centers Hybrid Cloud offers innovative solutions to accelerate the deployment and implementation of hybrid IT solutions, boosting availability, infrastructure performance, and interconnect reliability to public clouds, clients, and trading partners.
By leveraging Volico Data Centers Hybrid Cloud, you can address and resolve challenges surrounding interconnect and performance.
Are you ready to improve your Interconnection and network performance?
Partnering with Volico Data Centers is your first step to launching your business's digital transformation. With network solutions for large and small businesses, Volico Data Centers Hybrid offers high-performance connectivity, paving the way for DCI advancement in your organization.
To get started, call (305) 735-8098 or Chat to speak to one of our interconnect and performance experts today.